"
Summary

In this article I will be showing you how to download books from Goggle for free. This is not illegal as these books are crawled by Google and available publicly through their search. So technically, Google is aiding people who are performing copywriting infringement of authors.
Research

Get the title of a book. In this example I am going to try to download the trilogy by E. L. James which contains 3 books. Fifty Shades of Grey (2011), Fifty Shades Darker (2011) and Fifty Shades Freed (2011).
The first thing I am going to do is get the correct titles of the books. I will search Google for "e l james wiki". This brings me to the wiki page which will contain the titles for all books by that author. You could also go to Amazon, etc.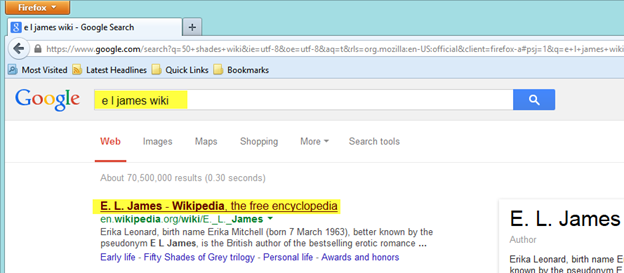 "
On the Wiki I located the exact book titles I want to download

"
Now perform a search on Google, in this case I will be searching "Fifty Shades Grey" and using filetype:pdf so that Google only returns PDF results. The filetype:pdf is the most important thing.
Right click on of the titles and select "Save Link AsÔò¼├┤Ôö£├ºÔö¼┬¼"
"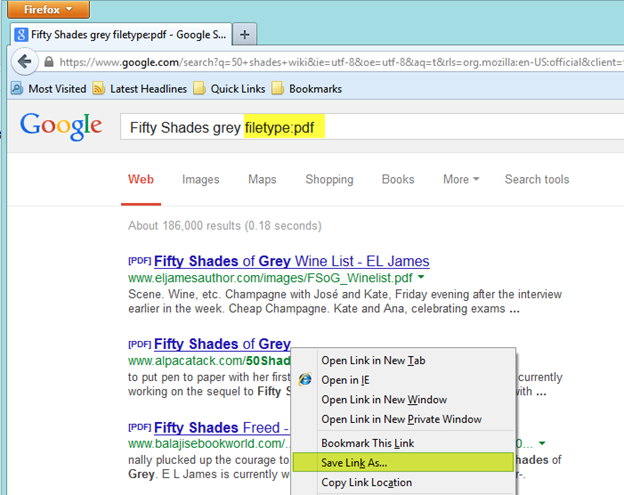 "
Repeat the process for all of the books you want.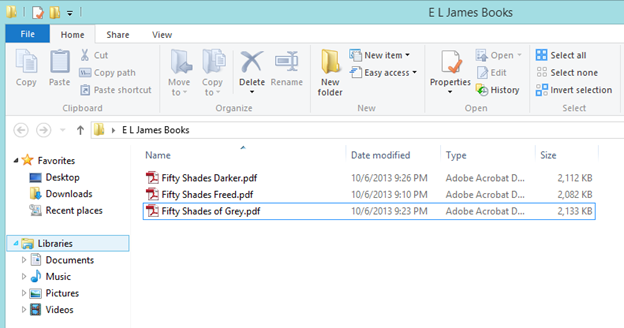 "
References

You can find anything you want on Google if you know how to search correctly. Here are a couple of links to help you search Google more effectively.
Google Search Operators
http://www.googleguide.com/advanced_operators_reference.html
https://support.google.com/websearch/answer/136861?hl=en
http://moz.com/blog/25-killer-combos-for-googles-site-operator
"